France's Hollande Urged To Act As Roma Row Splits Govt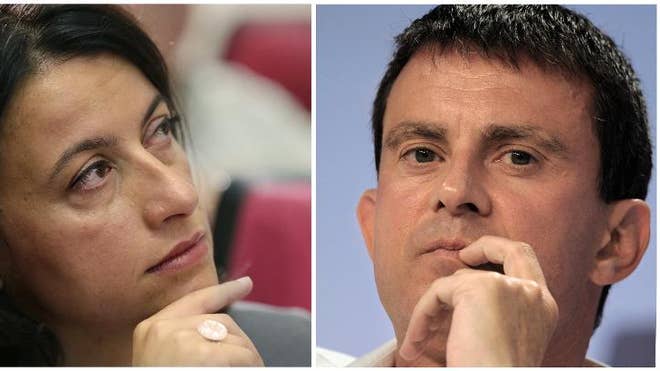 Valls, who has also championed a controversial policy of dismantling illegal Roma encampments and deporting their residents, has been publicly criticised by at least three cabinet colleagues and the row has strained relations between Hollande's Socialist Party and their junior governing partners, the Greens. The opposition has been quick to pounce on an episode they say has once again exposed Hollande's tendency to dither when confronted with difficult decisions. "A government where you have some ministers organising attacks on other ministers cannot last," said Francois Bayrou, the leader of the centrist MoDem party. "Coherence has to be re-established and that is the responsibility of the president and the prime minister." The sniping at Valls from the Green and left of his own party continued unabated on Monday with Green Senator Esther Benbassa branding his attitudes on the Roma as "quite simply unacceptable." She added: "These (Valls's) comments recall the darkest hours of our history. There is no such thing as a people who cannot be assimilated, only countries who do not make them welcome." Housing minister Cecile Duflot, the most senior Green in the government, has accused Valls of betraying France's core values and urged Hollande to call the outspoken interior minister to order. Valls has denounced that claim as "unacceptable." Delphine Batho, a Socialist former minister who was sacked by Hollande in July for criticising government spending cuts, accused the president of double standards. "I was pushed out the door supposedly as a show of authority, but there hasn't been much of that on show in other cases," Batho said. Valls meanwhile was basking in the glow of evidence that his stance on the Roma issue has bolstered his status as the most popular minister in Hollande's government. A poll published at the weekend revealed that more than three in four (77 percent) voters believe he was right to say Roma migrants should be "delivered back to the border." The minister was in unrepentant mood during a round of interviews on Sunday, in which he highlighted figures indicating that a disproportionate amount of petty crime in Paris is committed by minors who are nationals of Romania, from where the majority of recent Roma arrivals in France originate. The extent to which the issue has gripped the country was reflected in the high-profile coverage given to a court case opening on Monday in which 27 members of three Roma families are accused of grooming children to become thieves. Several of the accused are charged with people trafficking on the basis of evidence that some minors were traded between families in return for payment. The defence contests the charges and says the payments could be explained by traditional dowry arrangements.
A New Cry in France: 'Let Us Work Sundays!'
"The government notes that Sunday rest is an essential principle in terms of protecting workers and social cohesion" while recognizing that "the existence of Sunday work is a reality," his office said in a noncommittal statement. The current debate stems from a 2009 move by then-President Nicolas Sarkozy's center-right government that eased back curbs on Sunday store openings. The efforts faced political opposition and resulted in a mish-mash of legal waivers, special-zone exemptions and other loopholes. Most French consumers are used to the country's Sunday rhythm: Shopping is restricted to tourist areas or owner-operated stores. Restaurants are exempt, but even supermarkets only open a half-day with some exceptions. France, the world's most visited country, gets 7 percent of its gross domestic product from tourism. But France ranks only third in terms of tourist spending, and French tourism boosters say that is directly attributable to Sunday store closings. Europe is far from uniform on the issue. Many British stores open on Sundays. In Germany Europe's economic engine a 57-year-old law requires stores to close at 2 p.m. on Saturday until Monday, though some exemptions apply like at train or gasoline stations. Berlin allows stores to open 10 Sundays a year. In Spain, the Madrid area has peeled back Sunday-closing restrictions in recent years, aiming to boost job creation and commerce to help lift the country out of economic crisis.